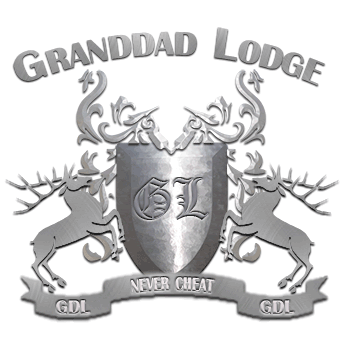 Granddad Lodge - GDL
Hi all

I am granddad (graham), I started this server for Deer Hunter 2005 in June 2006.

I had been a member of 2 other teams but left as some players used cheats to win competitions. I have set up a server that run's 24/7, sometimes it's an open server for all to play, and sometimes it is passworded, this will change from time to time.

I also have a TeamSpeak server for players, so we can talk without having to type.

Members are from all over the world, there is a small thing with time zones, but we do manage to see one another most of the time.

Some players play the game every day, and some just now and then, some just once a month.We have competitions/tournaments every so often, these are just for fun.
If you think you can help the team out in any way i will be glad to hear from you. Any skill's that you might have, (Computer's, Web Sites, Management,)

All our servers have (GDL) on them. U are welcome to come and play on these servers,but u must play by our game server rules. I.P addresse for granddad server is 82.38.59.231
This server is open 24/7.
Due to certain conditions some members will have trouble joining my server saying (player banned from server), this is the game and not me. Due to the amount of players that have been banned (johns & players 1s etc).
It is a Blocked ip address that is banned, if you end up in this place i am sorry, but all you have to do is email me or let me know on t.s.

Contact information
. Any other queries regarding Granddad's Lodge please email us at:
granddad.graham@gmail.com
Belindakind@googlemail.com
For other questions regarding the site itself, see the
About
page.
Help?
If you need help with anything, with the website, TeamSpeak, or a problem with another player, see this page, for who you can ask. For example, if you are having problems logging in on the TeamSpeak server, contact one of the people that are responsible for TeamSpeak. In general, you can send an email to the above address, and it will be solved as soon as possible, and as good as possible.
Registration?
If you have applied to become a member in GDL as described above then you need to wait to be approved by one of us, that can approve new members, hopefully it wont take that long. You don't need to be a member to read the results of our tournaments and activities, but if you're very interested in taking part in discussions, you can of course register too, but let us know, who you are.